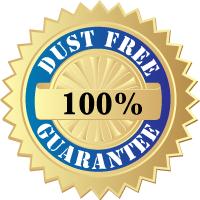 Why choose a company that offers 100% Dust Free Refinishing?



Dust has always been synonymous with hardwood floor refinishing. Sanding anything creates dust. Traditional hardwood floor sanding and refinishing was a terrible dusty mess. Sanding created a toxic dust storm in your home and permeated every room in the house. The cleanup would go on for days.

Many fear the tremendous clean-up generally associated with having their floors refinished. Many sensitive areas within a home simply cannot be cleared out to have the hardwood floors refinished. Home offices, for example, or floor to ceiling libraries often cannot be practically moved to shield them from the dust normally generated from the sanding process.

For this very reason many people over the years, although needing to have their floors refinished, have put off the work when faced with the daunting task of either covering or physically moving furnishings that are dust sensitive. These concerns have been met and addressed head-on by the floor sanding industry.

You see, in the past, sanding machines just had a cloth bag attached to capture most of the dust created by the sanding process. Unfortunately, this process still left a huge dusty mess in the home because it just wasn't effective in capturing enough of the dust.

With the advancement of vacuum technology most (but not all) companies have some sort of highly portable dust containment vacuum system connected to at least one or more of their sanding machines. They still may use a cloth bag, which allows dust to escape into your home. To try and contain it all, they will go around and hang plastic and mask off areas they are not working in. The vacuum unit runs off a 110v power source and is usually set up inside the home circulating the harmful exhaust air around the home. Dust still gets into the duct work, on the walls and circulated around the home.

It's a proven fact that 110v portable dust containment systems don't have the power or cfm's to effectively capture ALL the dust that is generated from the sanding equipment.


We at Maxcare Hardwood Floors believe that to be truly being dust free you need to have a big enough vacuum with enough power to capture all the dust that is generated. We also believe the best system involves complete dust evacuation. Also, if you are truly dust free, then there is no need to hang plastic or mask off any areas.

We achieve this by having a gas-powered truck-mounted vacuum system. The system is powered by a 61 hp 4-cyclinder Nissan motor which is connected to a positive displacement vacuum pump. A positive displacement pump allows you to run longer length of vacuum hose without a loss of suction power. We can run over 200 feet of hose without a problem.

Maxcare Hardwood Floors is the only company in Pierce County that has a vacuum system this big.

And we not only have one, but we have four truck-mounted systems so that all of our sand and finishing jobs get the benefit of being dust free. Our goal is to provide you with a positive flooring experience, and we firmly believe that having a dust free sanding system helps us to attain that goal.

Other companies will try to tell you that there is no such thing as being completely dust free and that everyone has to hang plastic. But why don't you ask some of our satisfied clients what they think of our system?

Like Nicole Sundin of Sammamish
...it truly was dust free-amazing!

or Joe Anderson of Edgewood
...not a bit of dust any place in the house.

and Debbie Naglee of Puyallup
...they left our home spotless.


We are so confident in our dust free system that we offer a 100% guarantee. If you find any wood dust in your home from our sanding and finishing process then we will gladly have your home professionally cleaned for free.

Call us today at 253-864-0499 and we can give a free in home consultation regarding the refinishing of your hardwood floors using our unique and guaranteed 100% Dust Free Refinishing System.